Dinner and a Cruise
Dinner cruises aboard the Josiah White II are unique not only in the Lehigh Valley, but to the state of Pennsylvania. Each of our scheduled cruises has a different theme, with dinner and music reflecting an aspect of the theme. There is always an introduction to Lehigh Canal history before our main program gets underway.
The two-level, 20'x50′ Josiah White II has room for up to 60 Dinner Cruise passengers. The boat is equipped with modern electric and sound systems as well as two bathrooms on the lower level, one being handicapped equipped. There is a lift for physically impaired people to access the lower level where the bathrooms are located.
We've added two Sunset Cruises this year.  Take a leisurely 1-hr cruise amidst the golden light of sunset.  Sip sangria and savor delightful tapas.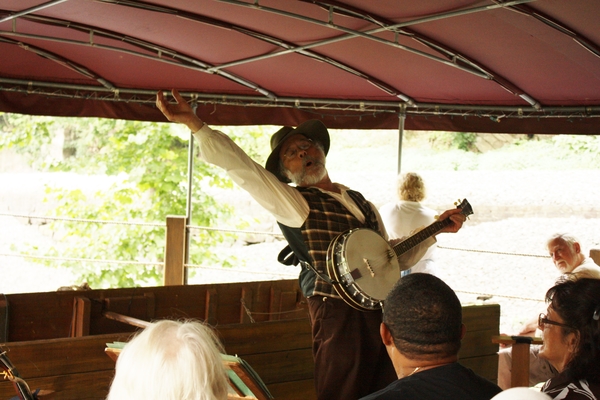 We have an exciting line up  of 2017 Dinner Cruises!
Saturday, July 8 — Music of the 1940s with the Swing Time Dolls – SOLD OUT
Saturday, July 29 — History of Beer Making in the Lehigh Valley Cruise
Saturday, August 12 — Canal Music, Stories & Songs
Saturday, August 26 — Roaring 20's Music Cruise
Saturday, September 9 — Bethlehem Steel Cruise
Saturday, September 23 — Wine Tasting Cruise
Saturday, October 7 — The Italian Connection
Saturday, October 14 — Blues Cruise with the Steve Brosky Band
Sunset Cruises
Thursday, August 17                   Friday, September 1
**D&L Members receive a $5 per ticket discount on Dinner Cruises. Join today!**