< Back to History Blog
Welcome Back!
We're thrilled to announce that the National Canal Museum and Welcome Center will be reopening next week!
Beginning with a members-only preview July 8-10, the museum will be open to the general public Wednesday through Sunday starting July 11. The Welcome Center will be open to the general public starting July 8.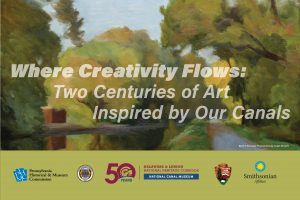 We can't wait to show you our new exhibit, "Where Creativity Flows: Two Centuries of Art Inspired by Our Canals." Featuring historic and contemporary art and artifacts, novels, folk and public art, and film, the exhibit celebrates the richness of canal life and breathes new life into our regional history.
To ensure that our visitors have a safe trip to the museum, we've put several new precautions in place.
Museum capacity will be limited to 25 visitors at a time.
All guests and volunteers will be required to wear masks in the museum.
Check-in, payment stations, and interactive activities have been altered to be as touch-free as possible.
Restrooms and museum surfaces will be cleaned and disinfected frequently.
Masks will be available for purchase in the National Canal Museum for guests who may forget to bring their own.
The reopening schedule is as follows:
July 8-10, 11:30am-4:30pm: Members-Only Museum Preview
Beginning July 8, 11:30am-4:30pm: Welcome Center open to general public for bike rentals and refreshment sales
Beginning July 11, 11:30am-4:30pm: Museum and Welcome Center open to public Wednesday-Sunday
If you have any questions about the reopening, please contact visitorservice@nulldelawareandlehigh.org.
Last updated July 1, 2020.
Join the Conversation!