Easton Offers Something For Everyone
The city of Easton, Pennsylvania, overflows with history and family-friendly attractions, from parks and playgrounds to interactive exhibits at the Crayola Experience, Nurture Nature Center, and the Sigal Museum. Located at what the Lenni Lenape Indians knew as the "Forks of the Delaware", Easton sits on the banks where the Lehigh and Delaware rivers merge — as it has since the mid-1700s, when the frontier town was laid out by William Penn. Like other cities designed by Penn, the town's focal point is a large central square, now located just south of U.S. Route 22.

The first public reading of the Declaration of Independence outside of Philadelphia took place in 1776 in Centre Square. The city celebrates the reading's anniversary each year with a Heritage Day festival, featuring re-enactions and fireworks.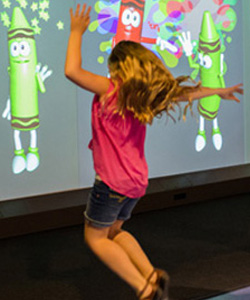 Centre Square is also the home of the Crayola Experience — where you can color, sculpt, or drip your own art and also see how crayons are made — and of the Easton Farmers' Market, the oldest continually running open-air Farmer's Market in the United States.
Just a block away is the Sigal Museum and Northampton County Historical and Genealogical Society, which features special children's programs, collections of pre-European settlement artifacts and colonial furniture, and much more. The museum is also home to the Jane S. Moyer Library, with resources for students, scholars and genealogical researchers.
Other attractions include environmental programs at Nurture Nature Center, playgrounds at Riverside Park, historic walking tours, concert and theater productions performed by nationally acclaimed stars at the State Theatre, horse-drawn carriage rides and plenty of art exhibitions, restaurants and boutiques.
From historic landmarks like the Bachmann Publick House and Centre Square to a growing and ever trendy nightlife, there are always things to do in downtown Easton!
Learn more about attractions in Easton and its neighboring communities at Discover Lehigh Valley.