< Back to History Blog
It's #MuseumMonday! As part of an ongoing NEHGrant project, we're diving into the archival collections here at the National Canal Museum to bring you weird and wonderful objects and fascinating stories from the past.
J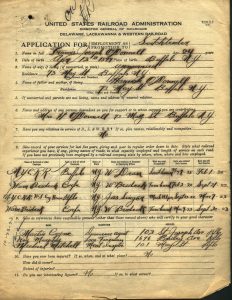 ob hunting is one of those painful but necessary parts of life – and that was no different a hundred years ago!  We're taking a sneak peek into the life of Francis J. O'Donnell, a railroad worker applying for a position as a Switchman, or Switchtender, with the Delaware, Lackawanna and Western Railroad in 1923.  The DL&W was founded in 1853, and connected Buffalo, NY with Hoboken, NJ, before freight continued to New York City via ferry.  The railroad was a key shipping route for Pennsylvania's anthracite coal fields, shipping up to 14% of the total coal produced during the 1920s-1940s.
Working as a Switchtender was a high-risk, skilled position that required great attention to detail.  Switchtenders controlled the track switches which moved trains from one track to another, in addition to moving cars and locomotives into position while in the rail yard.  Their close proximity to moving trains left the workers in danger of being struck or crushed between cars.  Similar to the job of an air-traffic controller, one mistake in the routing of a train could result in costly and even fatal train crashes.
By breaking down Mr. O'Donnell's employment application and accompanying physical test records, we get a little glimpse into his life.  He was an experienced railroad worker and hard laborer, with experience from the New York Central Railroad where he worked in the Engine House and as a Switchman.  His personal references show that he was well-connected amongst working men with respected job titles, including an Insurance Agent and a Meat Inspector.  When asked why he left his previous position, his answer was simple and ambitious: "To do better."
T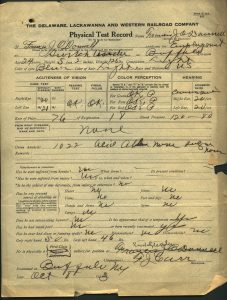 he Physical Test Record included with his application is an interesting look into the sort of men the DL&W wanted to hire (note that the printed application only uses "he" in the questions!)  We see here that Mr. O'Donnell was a small but strong man, only 5'2" at 24 years of age.  He was in good health, with no injuries, and passed his hearing, eyesight, and color blindness tests with no issue.  Along with expected physical questions that might affect the job – such has "Has he ever had dizzy or fainting spells?" there are questions of character.  "Does he use intoxicating liquors?"  and "Is his appearance that of a temperate man?" indicate the DL&W's need for competent, reliable workers.
Luckily for Mr. O'Donnell, his application and letters of recommendation, one of which described him as "a very trustworthy and willing worker," landed him the job.  His employment application indicates that he was helping to support his mother, Mrs. Hannah O'Donnell, of Buffalo, so no doubt his newly-found job was a great relief to them both!
Click on each image below to read the full-size documents referenced above:
Join the Conversation!