< Back to History Blog
On this Veterans Day, we salute the men and women who served as members of the United States Armed Forces.  On November 11, 1918, celebrations rang out across the world as the hostilities of World War I came to an end.  In commemoration of that moment, Armistice Day was declared as a national holiday, and later changed to Veterans Day to include all who served.
Behind the men and women of the military are the industries which make the machinery of war, and here in the Lehigh Valley, that was Bethlehem Steel.  Bethlehem Steel began working under military contracts to produce guns and armor plating in the late 1890s, and opened the shipbuilding division in 1905.  By World War II, one fifth of the U.S. Navy was built by Bethlehem Steel shipyard, along with nearly $1.5 Billion in contracts for bomb casings, gun forgings, airplane parts, and other military supplies.  From the Spanish-American War through World War II, any service member probably used a gun, or was protected by armor, made by Bethlehem Steel.
From the beginning, Bethlehem Steel was an innovator in the arms industry, developing new and more reliable guns for the US Army and Navy, and strong, dependable armor to keep America's troops safe from enemy attack.  In one of the earliest military contracts contained in the Bethlehem Steel collection here at the National Canal Museum Archives, dating from March 1892, the company responds to a call from the Navy "inviting proposals for steel gun-forgings."  Bethlehem Iron, as the company was still known at that time, contracted to provide a total of 59 breech-loading rifled guns in 4" and 5" diameters, over a seven-month period.
Bethlehem Steel provided ships and armament for the Spanish-American War in 1898, a conflict which placed the United States of America squarely in the center of international politics, and allowed the US military to emerge as a global superpower.  Their consistent production and careful innovation likewise placed Bethlehem Steel in the spotlight as a leading military contractor.  In the following photos from a Bethlehem Steel photo album, a few of the remarkable guns produced are seen (click on any image to enlarge).
One of Bethlehem Steel's most critical advancements, however, was that of steel armor plating.  The incredibly strong plating protected troops from enemy attack, and was used to plate warships and provide shielding for guns.  Seen below, 4″ Nickel Steel plating in testing for use on the USS Maryland withstands a number of hits from a 4″ gun at various ranges.  It is thanks to this ballistic plate that so many of America's Veterans survived to return home to their families, and to share their stories.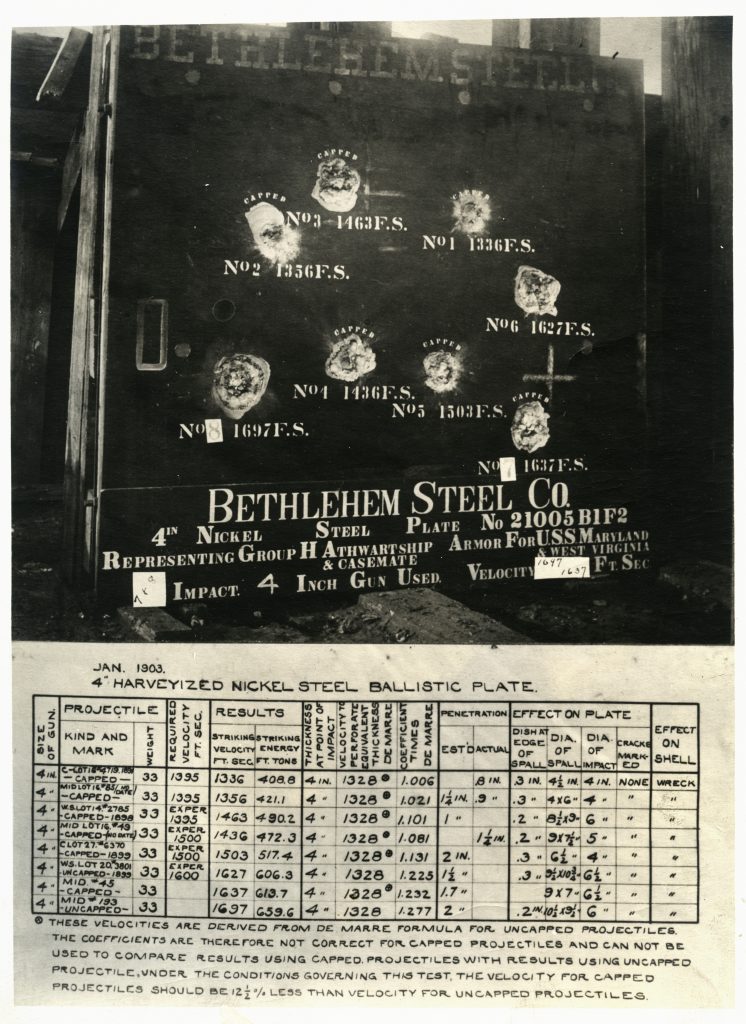 Join the Conversation!