< Back to History Blog
A Glimpse at the Past: Lincoln's Assassination Through the Diaries of Robert Sayre
by NCM Historian Martha Capwell Fox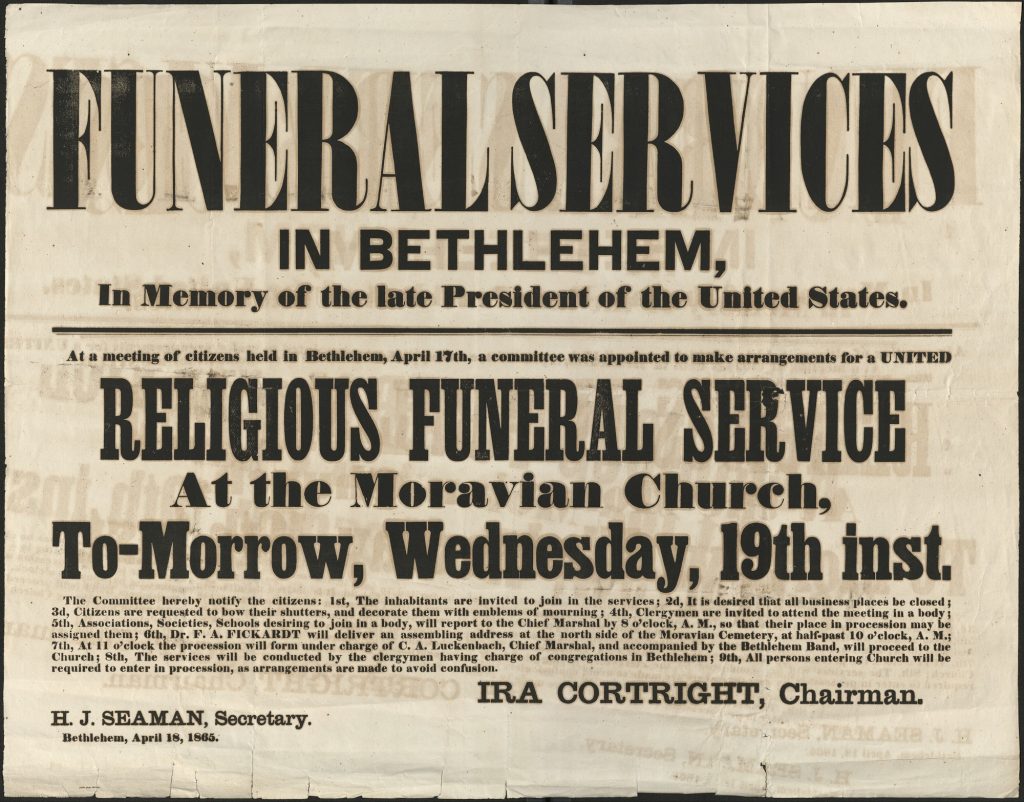 "Great gloom and consternation settled on the entire country" upon learning of the death that morning of President Lincoln, Robert Sayre wrote in his diary on April 15, 1865.  Though the daily entries Sayre made all his life are brief and terse, we can glean insights into the life and times of the extraordinary man who was the chief engineer and superintendent of the Lehigh Valley Railroad, as well as the builder and chief director of Bethlehem Iron. 
April 16, 1865 was Easter.  Sayre notes "the entire country is in mourning. " He attended multiple services at "our new church" (of which he had led the founding and building ) and visited three friends including John Fritz, and his father, William H. Sayre.  
 "The Washington assassins have not yet been arrested," he wrote on Tuesday, the 18th, after a busy two days: a meeting in Catasauqua; two afternoons testifying in Lehigh County court in Allentown in a matter involving the Catasauqua & Fogelsville Railroad; greeting multiple visiting Episcopal bishops and clergy at train stations; and attending the cornerstone laying of Grace Episcopal Church in Allentown.  The following day, the bishops were to consecrate Sayre's Church of the Nativity. 
Lincoln's funeral was held in Washington at noon on Wednesday, April 19, and tens of  thousands of Americans gathered for memorial services at the same hour across the country. Nativity's consecration was moved to 10 AM, and immediately afterward Sayre, the bishops, clergy, and the entire congregation walked across the nearby bridge to join the ministers and most residents of Bethlehem in the Moravian Church on Main Street.  
A hand-written program of that service is in the Moravian Archives' collection.  It lists the names of the six ministers (Schultz, Heisler, de Schweinitz, Potter, Cummings, and Geissenheimer) who spoke or led prayers, and notes two hymns sung by the choir and three by the congregation. The Moravian and Episcopalian groups then returned to Nativity for yet another service, at which de Schweinitz extolled the strength of the historic ties between Anglicans and Moravians. 
 "All business suspended today in honor of our late President," Sayre wrote at the end of what must have been a day of both deep grief and great joy.   
Join the Conversation!