< Back to History Blog
"The Boys" – The Story of the Mules, Hank and George
by NCM Historian Martha Capwell Fox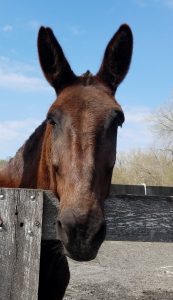 Guess who just got back today?
Them long-eared boys that'd been away
Haven't changed, had much to say
But man, them mules are handsome. 
Pretty soon they'll be dressed to haul 
Josiah White 2 from now to Fall.
The boat ride's smooth and the tales ain't tall
And if the boys wanna eat, you better let 'em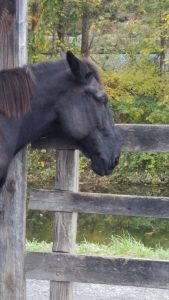 That conch shell blarin' out our favorite sound
The nights are getting shorter, it won't be long
Won't be long 'til summer comes
Now that the boys are here again. 
The boys are back in town (spread the word!) 
The boys are back in town. 
(with apologies to Thin Lizzie) 
Our beloved mules, George and Hank, return to Hugh Moore Park from their Willliams Township winter home on May 1.  So this seems the perfect time to add the story of how they came to be "our boys" to the history chronicles of the National Canal Museum. As part of our celebration of the Museum's 50th anniversary, we have been recording "legacy conversations" with the people whose hard work, energy, and vision brought us to this milestone. Recently, Sue Francisco recounted the story of finding and winning the boys at an Amish mule auction. 
Sue Francisco joined the crew of the Josiah White II in 1996. Since then, she has been a crewmember, boat captain, docent in the locktender's house and one of the archives staff. But we suspect her favorite role has been as "Aunt Sue" for Hank and George.  
In 2005, it was time to retire the team of Dixie and Daisy, who had been working since 1991. Sue, Charlie Derr, then the Hugh Moore Park manager, Chris Szarko, the current park manager, and Ray Rush, who with his wife Sharon have cared for all our mules in the off-seasons since the 1980s, began trekking to the mule auctions in Lancaster County in 2006 to buy a new pair.  
At first it was discouraging, Sue remembers.  "Our budget was too small and we kept getting outbid for the mules we wanted," she said.  "So Steve Humphrey (the executive director of the Museum) asked Mrs. Emrick (with her late husband Peter, Elaine Emrick has been the major supporter of the National Canal Museum) to help us. She did, and that was how we were able to buy Hank and George." 
The human "mule team" had specific ideas about the mules they wanted.  They had to be young; Dixie and Daisy worked for fifteen years, starting at about age five.  Charlie Derr wanted males to name "Mike and Ike." Sue was adamant that they had to be Percheron mules (offspring of Percheron mares) because they are big and uniformly dark, like the mules in historic photos of our canals. She wanted big mules to avoid the "feel sorry factor" that makes some visitors think that pulling the canal boat is very hard for the mules. (It's not.)  
For Sue, temperament was paramount.  "Our mules have to be friendly. They have people around them all the time so they have to be gentle and not skittish or rough. In the auction barn, you walk around and look at the mules, and almost always, they turn their butts to you.  George and Hank came over to us. George started nibbling my shoelaces, and Hank nosed into my pockets for a treat. Later, George got down on his knees to take a rest, and Hank stood over him and kept the other mules away. They were that bonded to each other. And I said, 'Those are the mules we want.'" 
So the boys sold themselves, and Mrs. Emrick's generosity covered their $3500 price. A few years later, Sue was in the corral with the mules between rides, and an auctioneer and mule expert asked to take a closer look. "That's a $10,000 team," he told her.   
Over the past 15 seasons, Hank and George have probably earned the Museum and the D&L more than that from riders on the Josiah White II. And as the four-legged icons of Hugh Moore Park, they are priceless. 
Join the Conversation!