< Back to History Blog
A Sweet Summer Sunday on the Delaware Canal
by NCM Historian Martha Capwell Fox
Once in a while, you read about somebody finding something important, valuable, or shocking in a drawer or closet that hasn't been opened in years.  Sometimes, it even happens in climate-controlled museum archives.  
This discovery, though, is just kind of charming.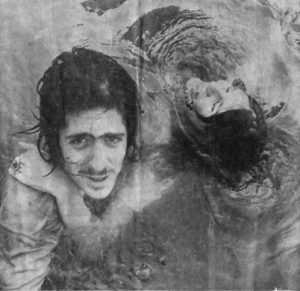 Tim, our facilities manager, and Bob, one of our wonderful volunteers, removed a sink and an old set of kitchen-like cabinets in the Museum's original archival storage building, where six people used to work. Behind the back of a drawer, they found two crumpled copies of this clip from the Trenton Sunday Times Advertiser dated June 29, 1969. 
Like many people, these two New Jersey teens spent a summer Sunday visiting New Hope. And like many young people before them, they sampled "the Cooling Delight of an Old Canal" as the headline reads, and where they caught the eye and camera lens of one of the paper's photographers.  
Was it just a summer fling, or did Walter Bachmer and Barbara Johnson's relationship last?  We probably won't ever know, but their lovely afternoon on the Delaware Canal fifty-two years ago was captured forever – and will now take its place securely in our actual archival files. 
Join the Conversation!