< Back to History Blog
Fuel from Far Away:  From the Lehigh Valley to Belfast, Maine
by NCM Historian Martha Capwell Fox
This eye-catching building has graced Main Street in Belfast, Maine for more than a century.  A closer look reveals a surprisingly familiar logo:  the bullseye trademark of the Lehigh Coal & Navigation Company's canal boats, coal mines, and Lehigh & New England Railroad.   
How did it come to be on a building in Maine? 
Back in the heyday of Anthracite Coal – the late 19th and early 20th centuries – the hot, long-burning hard coal from Carbon, Luzerne, Schuylkill, and Lackawanna counties powered much of the nation and heated homes and buildings in New England, the mid-Atlantic states, and the upper Midwest.  Though canals like the Lehigh, Morris, Delaware, and Schuylkill were the earliest transportation routes of anthracite from the mines to the markets, by the 1880s, the railroads that owned the coal mines carried it to customers hundreds of miles from Pennsylvania.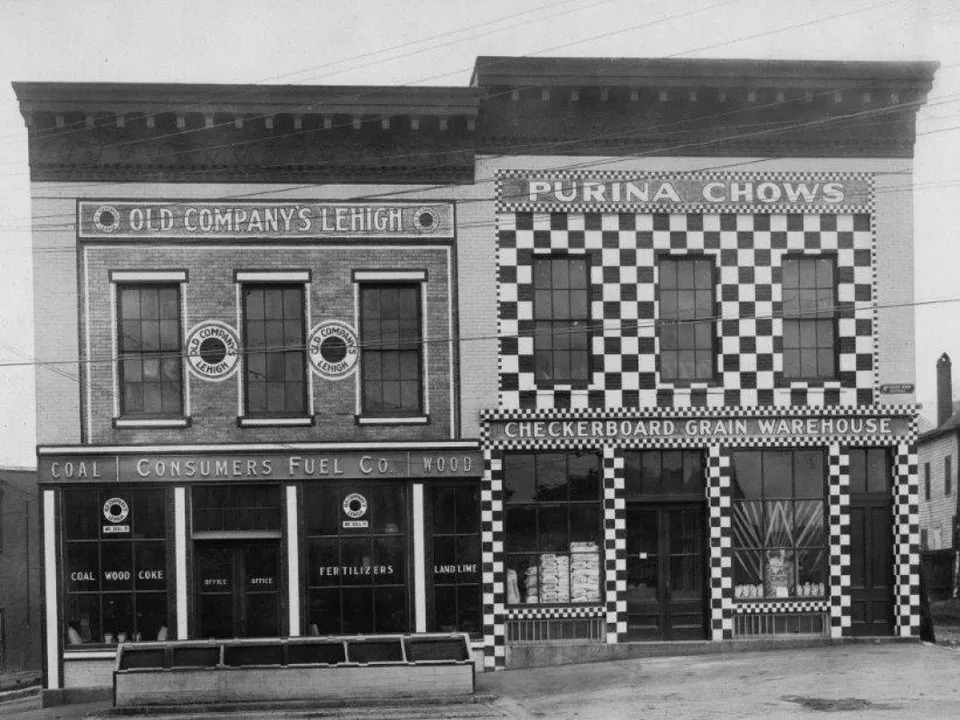 Some rail lines, including the Lehigh Valley and the Delaware, Lackawanna, and Western, ran north from the coal regions to their coal docks in Buffalo, where ships loaded with anthracite were carried over the Great Lakes to ports as far away as Chicago, Milwaukee, and Duluth. There, it was often loaded on to trains headed even further west. Meanwhile, in the northeast, railroad-owed ships and barges carried anthracite to places like Providence, Boston, Portland – and Belfast, Maine. 
"Schooners and barges delivered anthracite coal until the barges got too big for our little harbor here on Penobscot Bay," says John Holmes, president of the Consumers Fuel Company that has been in business in Belfast since 1911.  Two earlier coal and hay companies were housed in the building which dates to 1869 and, like his firm, they carried both anthracite and bituminous coal.  At Belfast's waterfront, the coal was unloaded by a coal-fired steam bucket which dumped it into "donkey carts" that carried five tons at a time to the coal yard.   
By the time Mr. Holmes joined the family business, the coal came by rail, and they supplied bituminous coal to local industries and blacksmiths and anthracite to homeowners.  As rail freight declined, delivery by trucks driven up from Pennsylvania became cheaper and faster until rising energy prices pushed the cost per ton to get the coal to Maine higher than the retail price. At that point, his company pulled out of the coal delivery business to concentrate on heating oil, which most Mainers use to heat their homes now. 
Nevertheless, there is still a small homeowner market for anthracite in Maine. A few fuel companies and retail chains like Tractor Supply get it from Blaschak in Mahanoy City, Reading Coal in Pottsville, Lehigh Anthracite in Tamaqua, and Kimmel's Anthracite in Wiconisco.  Packed in 40- or 50-pound bags, it costs about $350 per ton, and people who post on social media sites like CoalPail.com say that's enough to keep their houses toasty through an entire Maine winter.  
Join the Conversation!