< Back to History Blog
With Rivers, Come Floods
by NCM Digital Engagement Specialist, Emily Rose Clayton
Hurricane Ida is the latest to send the Delaware & Lehigh Rivers spilling out of their banks, but flooding along the D&L Corridor is by no means a new occurrence.  The story of progress along the rivers and canals is often one of building – and then re-building after destruction.
In 1839, twin floods hit the Delaware and Lehigh Rivers, one in January and one in April of 1839.  The south end of the dam at the mouth of the Lehigh at Easton was destroyed in the January flood.  The Delaware Division Canal, already undersized and struggling with poor engineering, underwent substantial damage.  Many of the Delaware Canal's aqueducts were destroyed, along with major damage to the wooden locks – many of which were never repaired, causing substantial shipping issues.
Flooding in 1862 decimated the corridor, as two days of heavy rains combined with the deforestation and other damage done to the landscape by the rapid industrialization of the area.  The dams and locks of the Upper Grand Section of the Lehigh Canal narrowed the Lehigh's natural river bed, causing massive backups and roaring currents.  By this point, the Lehigh Gorge had been extensively logged, leaving the steep hillsides denuded of almost all vegetation. Inches of rainwater simply pored down into the river, clogging it with soil, rocks, and countless logs stored before being shipped down river.
Every bridge across the Lehigh was swept away, with over 200 boats destroyed, eight lock houses lost, and at least 150 people killed.  The records of the Bethlehem Bridge Company noted the water gauge on the Lehigh River reaching 20.5 feet, just breaking the previous record from flooding in January of 1841.   Low-lying Weissport was described as "a scene of desolation" by a pamphlet published in 1863, where "lumber, wrecks of bridges, broken canal-boats, parts of carriages, etc., lay in endless confusion the length and breadth of the town."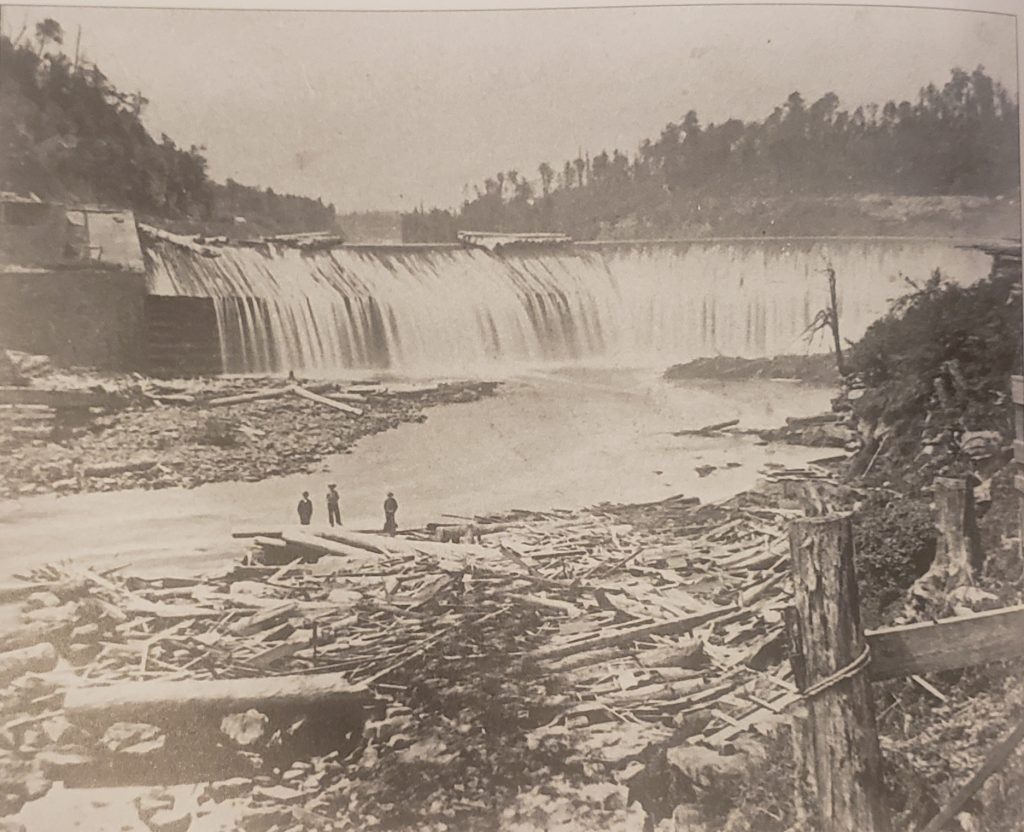 Pictured above, the 34-foot-high Tannery Dam demonstrates the aftermath of the 1862 flooding.  The broken logs in the foreground and still balanced atop the dam are only a fraction of the immense quantities of lumber that tore through the flood waters, tearing out dams, houses, boats, and anything else in its path.
Forty years later, the early 20th century saw the rivers flood in three successive years: flooding on December 15, 1901 was rapidly followed by "The Flood and Blizzard" in late February of 1902, and then a record-breaking flood in October 1903, which saw the Lehigh River reach 28 feet at Easton.  Pictured below during the 1901 flood, the Mansion House Bridge in Mauch Chunk (present-day Jim Thorpe) survived only to be destroyed in the February 1902 flood, which carried massive chunks of ice along with the flood waters.  If you'd like to know more, check out our blog for more information and photos!
Join the Conversation!