< Back to History Blog
Early EZ-Pass: When People Paid to Cross the Lehigh River
by NCM Historian, Martha Capwell Fox
Especially at this time of year, plenty of folks use the "back way" through Catasauqua to get to and from the malls, stores, and restaurants on MacArthur Road in Whitehall.  Despite frequent congestion, crossing the Lehigh on the Race Street Bridge, is often faster and usually less stressful than traveling on Route 22.  
But what if you had to pay to get across the bridge?  From 1824 until 1892, a succession of privately-owned bridges known as Biery's Bridge spanned the river approximately where the current bridge stands. It cost a penny to walk across and up to 35.5 cents if you were fortunate enough to have a wagon drawn by six horses.  
Or, you could buy the 19th century equivalent of an EZ Pass.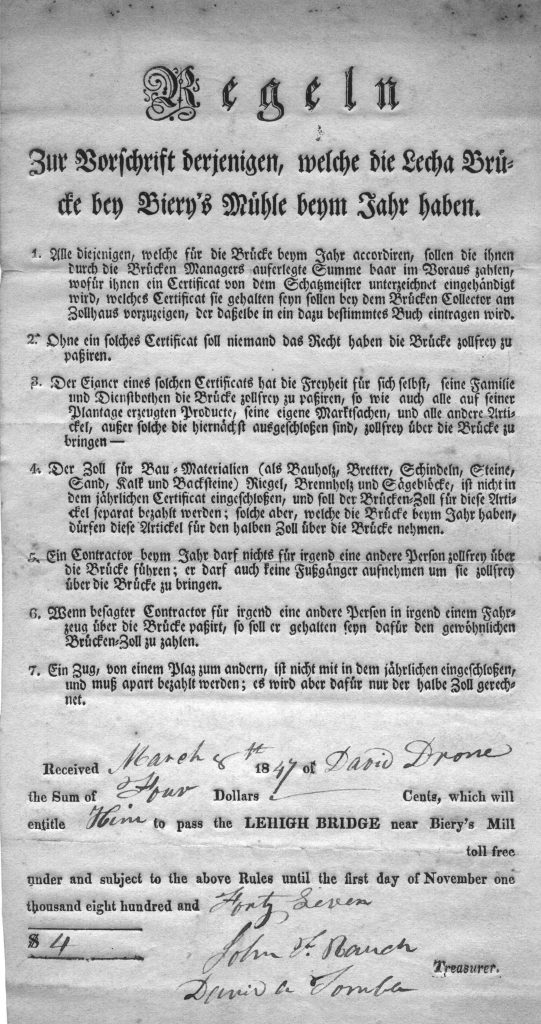 Two documents in the archives of the National Canal Museum tell us that $4.00 bought you a year's toll-free passage on the bridge. On March 8, 1847, David "Drone" paid $4 for a pass to cross the bridge, which expired on November 1 that year.  Apparently having come up in the world, David "Trone" –more likely his named is spelled correctly this time–paid another $4 on November 1 for free passage for his horses and wagons until the same date in 1848.   
The regulations for crossing the bridge are in German, but the receipts at the bottom of both passes are in English. This reflects the bi-lingual nature of business in the Lehigh Valley at this time.  German was the language used in most private and government business in the Lehigh Valley at that time, and most farmers in the surrounding countryside spoke only German. However, English was making inroads in business and private life, as the establishment of the anthracite iron industry earlier in the decade began to bring in hundreds of English-speakers from the British Isles. 
The first challenge to the Biery's Bridge tolls came in 1845, when the Crane Iron Company tired of paying $3.00 per wagonload of iron ore to cross Biery's Bridge and built a bridge of its own directly into the iron works further upstream. Finally in 1892, a partnership of Lehigh County, the Lehigh Valley Railroad, and the Lehigh Valley Rapid Transit trolley company built an iron bridge to carry electric trolley cars over the river and ended the tolls.  
Join the Conversation!