< Back to History Blog
The man who didn't know the definition of boredom
Written by Wendi Blewett, D&L Inventory Coordinator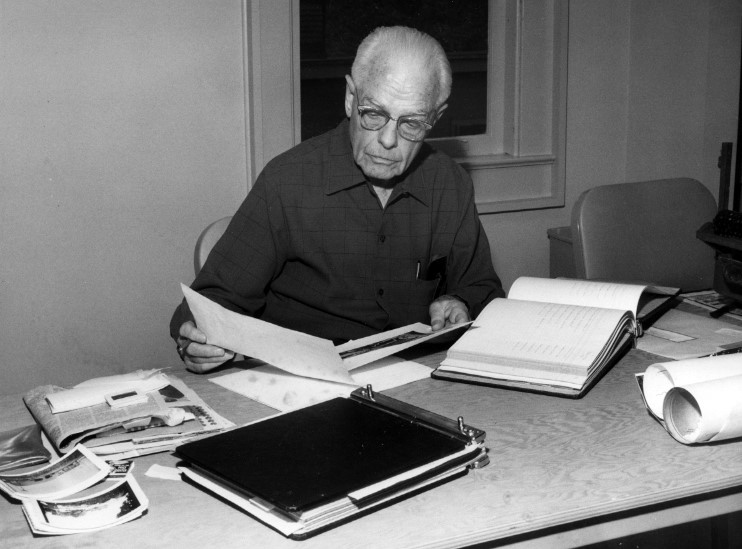 July is National Anti-Boredom Month, and although it sounds like a hokey holiday, it could also be great encouragement to take up a new hobby! If you need more convincing, look at the many accomplishments of Clayton Phelps "Bill" Yoder, an electrical engineer who spent his "retirement" becoming a painter, archivist, writer, and historian. In fact, he was the focus of a 1981 article in the Morning Call Newspaper (out of Allentown, PA) specifically about keeping yourself active in all stages of your life.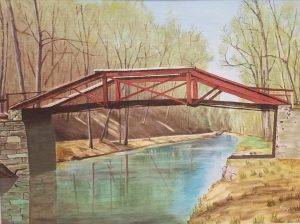 Born in the Finger Lakes region of New York in 1892, he became an electrical engineer and worked for G.E. in Schenectady and Erie from 1910 – 1925. He developed testing instruments to measure electrical units, like the volt, ampere, and watt. He tested electrical mechanisms for the Panama Canal and held patents on some of his electrical testing equipment. Eventually he ended up with Tranter Manufacturing Company in Lansing, Michigan. After retiring in 1962, he moved to Nazareth PA and began his second life.
Yoder now had time to devote to his love of canals, which began as a child living by the Cayuga and Seneca Canal, a branch of the Erie Canal. He spent most of his youth along the canal and in the summer of 1910 boated along the Erie with a friend. He rediscovered this love after retirement and soon had a new focus: the Delaware Canal. He became a founding member and curator of the Pennsylvania Canal Society (PCS) in 1966, and organized and cataloged PCS's comprehensive collection of historical materials relating to canals.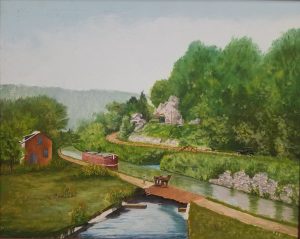 This led to his work researching and publishing PCS's first written work, "Delaware Canal Journal". The book, published in 1972, is considered the first definitive history of the Delaware Canal. Yoder himself compiled pictures, data, interviews, and stories through dedicated research.
He didn't stop there, though. Shortly after coming to Nazareth, he also revived old artistic interests. Yoder began with wood crafting, an activity he had enjoyed decades before, and soon expanded that to weaving and painting. He took up painting in the 1970s and created a staggering number of landscapes, most of them scenes of canals. The National Canal Museum is lucky to have many of these works in the collection.
He retired from the position of curator of PCS in 1980, at the age of 88. He continued to be an active writer and artist until his death in 1985, at the age of 93. This month, before you say, "I'm bored!", think of Bill Yoder! You may find yourself eager to develop a new hobby – or pick up an old one. 
**Brought to you by a project made possible in part by the Museums for America grant from the Institute of Museum and Library Services. The views, findings, conclusions, or recommendations expressed in this post do not necessarily represent those of the Institute of Museum and Library Services.**
Join the Conversation!