< Back to History Blog
#ShineLikeSally – Elsa Reichmanis
Written by Martha Capwell Fox, DLNHC Historian
We're participating in the #ShineLikeSally hashtag party with other Smithsonian Affiliates! This June is the 40th anniversary of Dr. Sally K. Ride becoming the first American in space. In honor of Sally Ride's accomplishments, organizations and individuals have been invited to share stories of women and underrepresented genders in STEM. So, we've got our own story to share: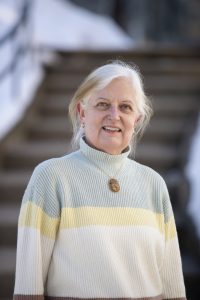 lsa Reichmanis, Ph.D. is an internationally recognized researcher, inventor, and leader in the study of organic polymers and hybrid materials that are used in energy, IT, and other related applications. Currently, she holds the Anderson Chair in Chemical Engineering in the Department of Chemical and Biomolecular Engineering at Lehigh University, Bethlehem, Pennsylvania.  
Dr. Reichmanis is recognized as one of the leading experts and innovators in optical lithography and photoresists, the process that "prints" patterns on silicon wafers. Chemical substances known as photoresists capture the pattern design and allow it to be embedded atop the silicon wafer. At Bell Labs in the 1970s and 80s, Reichmanis and her team advanced the development of new materials that led to the creation of the microchips that power an array of 21st-century devices.  She and her colleagues hold 43 patents as a result of their work. 
In 2008, Dr. Reichmanis moved to become head of the School of Chemical and Biomolecular Engineering at the Georgia Institute of Technology. In 2020 she joined the faculty at Lehigh University, where she and her department are part of an interdisciplinary research program at Lehigh that combines integrative work in health, science, and technology. 
Elsa Reichmanis has been recognized by major academic and industrial chemical organizations. She was awarded the Perkin Medal, one of the highest honors bestowed by the American chemical industry. As president of the American Chemical Association, Reichmanis was able to promote chemistry and engineering to both the public and US and international policy makers. 
Early in her career, Reichmanis chose to work at Bell Labs because of its commitment to diversity, beginning in the early 1970s to hire women and African American men as scientists and engineers.  She has been an energetic advocate and mentor for young women entering science fields such as chemistry and engineering.  
While she believes that more must be done to encourage girls to study in STEM fields, she also believes that girls need to ask themselves what interests them, what excites them, and what they are passionate about.  
"There are so many engineering fields—food processing, environment, energy efficiency, conservation, cosmetics. It's not just big mechanical and construction stuff.  

Engineering can make you a better problem solver; everyone can use skills like methodically studying something, learning to be analytical; it's not a matter of personality. An analytical approach to almost everything in life is valuable. 

About 40% of the engineering students at Lehigh are women now. Don't be afraid—find what excites you.  

You can do it!" 
Join the Conversation!