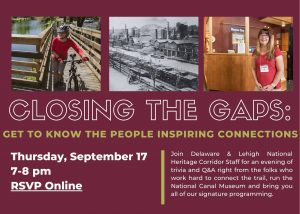 Have a question about trip planning, a historic feature in the Corridor, a specific program, or how the D&L staff works with people like you and partners to build, maintain, and interpret the D&L Trail? Join us for Closing the Gaps: Get to Know the People Inspiring Connections.
This interactive evening includes:
Ask Me Anything with staff from all departments (trails & conservation, museum & education, advancement), Towpath Then & Now Trivia with prizes, and tips for how you can get more involved to make a difference.
Virtual via:
D&L Zoom Meeting
Facebook Live