Kids on the Canal – Immersion Day
May is usually Immersion Day month at the museum, when school groups come daily to experience what life was like in the 1800s. This program is so popular we decided to let families take part in some of the activities as part of Kids on the Canal. Come tour the lock tender house, meet the mules and learn about their care, try your hand at old-fashioned laundry, learn about the geology of our region, and find out why boats float.  While you are here, why not rent a kayak or canoe to explore the canal or take a stroll along our towpath?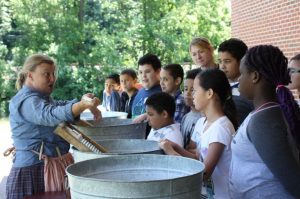 Activities will be outside (except for brief lock tender house tours), and guests will be asked to follow appropriate social distancing and mask protocols.
Kids on the Canal activities are included with museum admission. Events are held monthly on the third Saturday of the month.