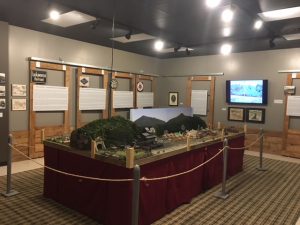 The National Canal Museum is taking visitors on a journey to the age of steam locomotives with the 2018 exhibition, "Powering America: Pennsylvania's Anthracite Railroads."
The discovery of anthracite coal in northeastern Pennsylvania in the 18th century led to the American Industrial Revolution in the 19th century. As part of the Delaware & Lehigh National Heritage Corridor's participation in the region-wide 250th Anniversary of Anthracite, the exhibit documents the railroads — Lehigh Valley, Delaware & Hudson, Lehigh New England, Philadelphia & Reading, Delaware, Lackawanna and Western, and the Central Railroad of New Jersey – which carried the high-energy hard coal from the mines in Luzerne and Carbon County to much of the United States in the 19th and early 20th century.
"Powering America" examines the closely interconnected development of the anthracite coal industry and railroads through photographs, maps, artifacts, and video.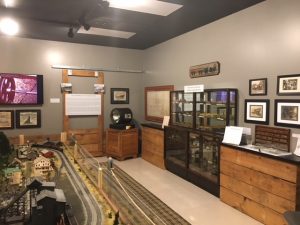 The centerpiece of the exhibit is a stunning HO gauge model railroad display featuring locomotives and railcars of the anthracite lines, partially drawn from the National Canal Museum's Louis J. G. Buehler collection. The model railroad layout – constructed by volunteers from the Nazareth Area Society of Model Engineers – includes a mining town with a coal breaker, an industrial town where the anthracite was used, and a segment of a coal-carrying canal with mule-drawn boats.
"It seems especially appropriate to me for us to have this exhibit right alongside not only the (Lehigh) canal, but the original route of the Lehigh Valley Railroad, which is now used by Norfolk Southern," said Martha Capwell Fox, D&L Historian and Archives Coordinator. "Right here we have train traffic that shows how important railroads are in U.S. transportation."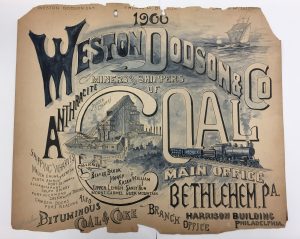 Other items in the exhibit drawn from NCM collections include an 1868 map of canals and railroads in Pennsylvania, original artwork for promotional calendars for the former Bethlehem-based Weston Dodson Coal Company, a working locomotive headlight, a Lehigh Valley Railroad conductor's uniform, and an edited version of Louis Buehler's 1968 film of steam locomotive operations at the Wanamie anthracite mine in Luzerne County.
The evolution of steam locomotives and coal cars is traced with an exhibit of HO models from the Buehler collection and other sources. A large engineering drawing of a camelback locomotive, on loan from the National Museum of Industrial History in Bethlehem, helps illustrate how these massive engines were designed and built to haul tens of thousands of tons of coal at a time.
"Powering America: Pennsylvania's Anthracite Railroads" is on display through Dec. 23.
Support for the exhibition was received from the County of Northampton's Hotel Tax Program and the Pennsylvania Historical and Museum Commission.