< Back to History Blog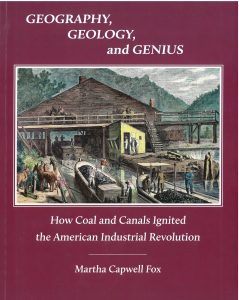 The Delaware and Lehigh National Heritage Corridor is proud to announce the release of Geography, Geology and Genius: How Coal and Canals Ignited the American Industrial Revolution. This is the first comprehensive telling of the little known story of how eastern Pennsylvania, from the anthracite coal fields to the tidal waters of the Delaware River, became the birthplace of the United States' Industrial Revolution. The 246‐page book is illustrated with over 200 photos, maps, and historic drawings—including several rarely seen color images.
Geography, Geology, and Genius focuses on how the unique blend of natural features and mineral assets were used by several extraordinary men to create new forms of industrial activity, dependent on anthracite coal. Several industries were founded in what is now the D&L Corridor—iron, cement, and silk among them. In this way, the book captures the nationally significant history of the Corridor.
The narrative, decade by decade, describes the hardships, foresight, resolution, and engineering brilliance that led to the region's national predominance in these and other industries. In an epilogue, local economic development leaders Don Cunningham and Larry Newman describe the impact this industrial heritage still has on the lives of residents of the Corridor.
Author Martha Capwell Fox and editor/book designer Ann Bartholomew have created an account of the people, places, and events that shaped the region's past and present. Their sources included the archive collections and previous publications of the National Canal Museum and the Delaware & Lehigh National Heritage Corridor; they also received generous cooperation from many regional institutions, historical societies, and local experts.  Publication of the book was supported by a grant from Furthermore: a program of the J.M. Kaplan Fund.
Geography, Geology, and Genius is available for $24.95 at the National Canal Museum's shop or online.
Join the Conversation!