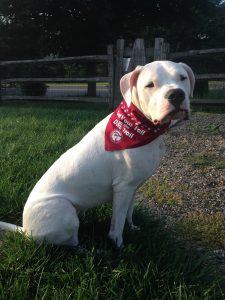 Join us for a morning of community, celebration and fun! This year marks the fifth anniversary of Get Your Tail on the Trail, the partnership program between St. Luke's University Health Network and Delaware & Lehigh National Heritage Corridor (D&L). To celebrate five years of promoting health lifestyles in our communities, we've planned a morning of events that will include: a dog walk, opening of a new dog park, information on Tail on the Trail's new mobile app, a dog adoption event and much more!
This special anniversary event will be held on May 5 at Hugh Moore Park in Easton from 9:00 am until 11:00 am. For more details and schedule of event, visit the Tail on the Trail event page.
**At the end of the scheduled event, attendees are encouraged to stay and enjoy the park. We highly suggest checking out the bicycle skills park, using the new dog park, taking a longer walk or bike ride on the D&L Trail, eating a picnic lunch on the grass or visiting the new playgrounds installed last year.**
Tail on the Trail is working with students in the Lafayette Technology Clinic to plan the celebration.