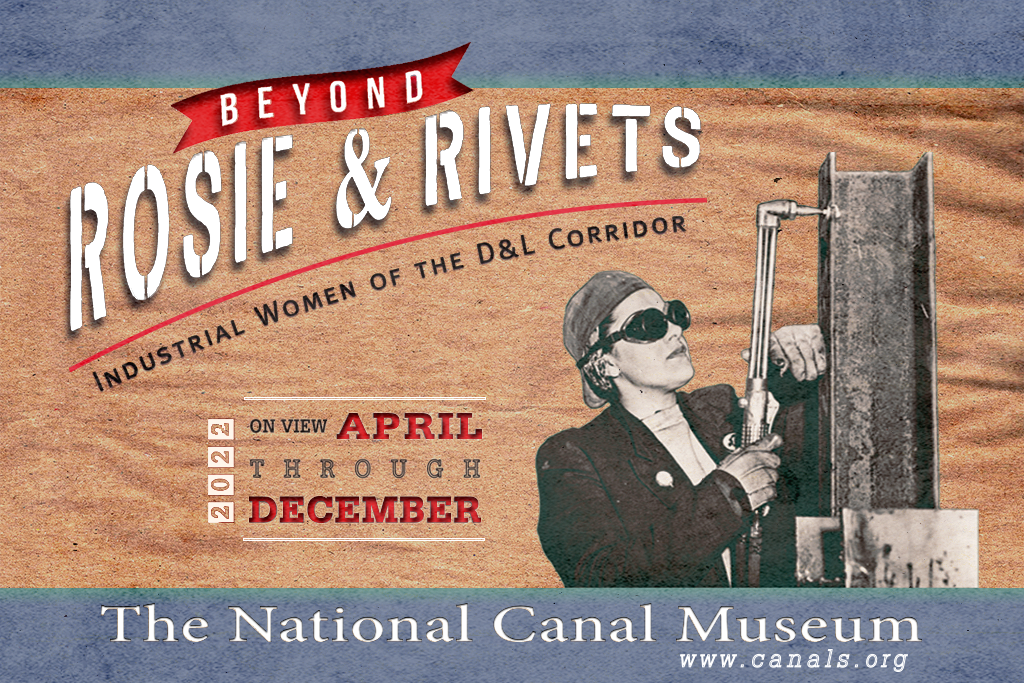 The National Canal Museum tells the stories of the industrial women from our past as well as in our present with the 2022 exhibition, "Beyond Rosie and Rivets: Industrial Women of the D&L Corridor."
The history of industrial women in the D&L Corridor is long with many current residents having had mothers, aunts and grandmothers (or themselves) as a part of that history. While many know that thousands of women worked at Bethlehem Steel and other heavy industries during the World Wars, women worked in industry long before and after that. Women worked in silk mills and garment factories. They made everything from Dixie cups to cigars to transistors.  For many of these industries, the work force was predominantly women.  Today, the range of industrial jobs open to women is greater than ever.
Photographs, artifacts, and oral histories in the Beyond Rosie and Rivets exhibition celebrate the women who stepped up into defense work in our region's heavy industries in wartime, the young girls who spun and wove silk into a world-leading industry in the early 20th century, the seamstresses who clothed the country, and the mathematicians and engineers who broke gender barriers during the second half of the 20th century.
The National Canal Museum also encourages the public to submit their own stories.  Women who lived and worked in the Corridor and who worked in places like Dixie, Western Electric, in garment factories, or any other industry in the five counties of the D&L — Luzerne, Carbon, Lehigh, Northampton, or Bucks may submit pictures of themselves and brief biographical details at:  https://canals.org/exhibitions/tell-us-her-story/.  Family members may also submit pictures on behalf of their relatives.  Selected submissions will be featured in a rotating presentation within the exhibition.
"Beyond Rosie and Rivets: Industrial Women of the D&L Corridor" is on display from April 2 through Dec. 18. 
This exhibition was made possible in part by the National Park Service, the Pennsylvania Historical and Museum Commission, the County of Northampton Hotel Tax Grant Program, and the National Endowment for the Humanities. The views, findings, conclusions or recommendations expressed in this exhibition do not necessarily represent those of the National Endowment for the Humanities and our other sponsors.